Links
The "Links" feature allows you to share information linked to your business with your clients.
In addition to the "Links" feature, if you want to make a single direct link to an external page, you can use the "Link" feature.
NOTE: All pages linked from the apps must be available in safe mode (https)
For example, you can create pages like this one with this feature: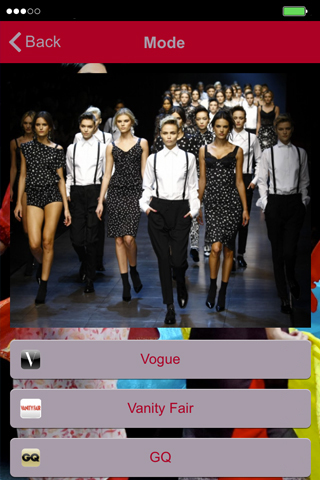 If you want to create a Links page, click on 

. It opens this window:

First of all, you have to work on the content, then you can work on the design.
1. Link / Links
You have to chose a label for the link that will be displayed in the app, then insert the URL to your external page.
If using "Links" feature you can choose a picture for the single link button (see screenshot of the app page above).
Also, you can choose three different method to open the link:
In app browser: the link will be opened in the app and you can choose different display options for Android and iOS
Custom tab: the link will be opened in the app but in a custom tab of the device browser (ex: Chrome, Safari, etc…)
External app: the link will be opened in the device browser (ex: Chrome, Safari, etc…)
Click on

button.
For "Links" feature, you can click on

to add nore links to the app page.
This way, you obtain this link:

You can create as many links as you want, you just have to do this process again.
2. Settings

In order to make this page unique, you can insert a cover photo. You can also choose two different page design.
If you have many links on the page, you can enable the search field.
4. Design

You can customize the background of the Links page. Once you made it, then click on

button.