MIGAWHATSAPP
ORIENTATION
The new feature in Migawhatsapp allows the sending of WhatsApp messages from Siberian to all users who have a mobile number set. Users with both a mobile number and a push token can be excluded to avoid duplicate notifications. This way, the feature covers users who may not be reachable through regular push notifications.
FEATURES
Interface: The feature replicates the layout and interface of the PUSH module in Siberian. This ensures familiarity and ease of use for users who are already familiar with the PUSH module.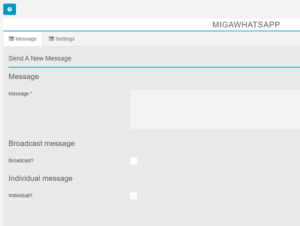 Manual sending: Users have the ability to manually send WhatsApp messages from the interface. They can enter the message in a text area provided in the Migawhatsapp function.
Broadcast or individual message sending: Users can choose between two options for sending WhatsApp messages: broadcast or individual message. If broadcast sending is selected, an additional option called "Exclude who has a push token" is available (disabled by default).

Filtering valid phone numbers: The interface filters and displays only the users who have a valid phone number stored in their account. This ensures that WhatsApp messages are sent only to users who have provided a phone number.
Exclude users with push tokens (optional): When selecting the broadcast sending option, users can choose to exclude those who have a push token associated with their account. This prevents duplicate notifications for users who have both a push token and a valid phone number.
Selecting recipients for individual messages: If the single message-sending option is chosen, users can select specific recipients from the entire module interface. The interface filters all app users and displays only those who have a mobile phone number stored.

Simplified management: With this new feature, there is no need to check the PUSH table or create a cron job. The sending of WhatsApp messages can be managed manually through the Migawhatsapp module.
SETTINGS
Set Gateway Settings: here user uses Send App gateway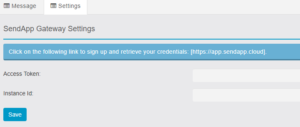 https://app.sendapp.cloud you can create an instance with your personal multisession or business multisession WhatsApp account
After creating the instance you can copy your Token and your Instance ID and paste them into the setting through which they linked with each other